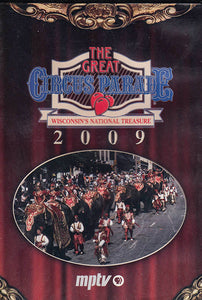 Shop Milwaukee PBS
2009 Great Circus Parade DVD - PRICE INCLUDES SHIPPING
Regular price
$28.45
$0.00
The Great Circus Parade rolls into downtown Milwaukee after a four year hiatus. A glorious display of circus history and pageantry, with 50 authentic circus wagons, 350 exquisite horses, 30 bands, 150 clowns and over 450 riding and walking performers dressed in lavish circus wardrobe. Announcers Jim Peck, Circus Historian Fred Pfening, Milwaukee comedian John McGivern and radio personality Sandy Maxx bring you the parade. DVD includes extra material. Recorded on July 12, 2009.
For more information call (414) 297-8003.

Allow four to six weeks for shipping.