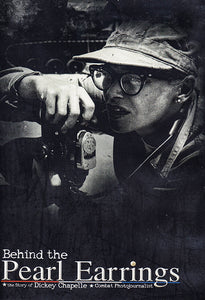 Shop Milwaukee PBS
Behind the Pearl Earrings: The Story of Dickey Chapelle DVD - PRICE INCLUDES SHIPPING
Regular price
$15.00
$0.00
This is the riveting story of Dickey Chapelle, the first American female correspondent killed in Vietnam. A native of Shorewood Wisconsin and a graduate of Shorewood High School, Chapelle never let her gender get in the way of what she wanted to do. She parachuted with troops in the heat of battle, and told the human stories of soldiers and what was really happening on the front lines from WWII to Vietnam. Award winning producer Maryann Lazarski tells the tale of this remarkable woman who braved solitary confinement and risked her life to do what she thought was right. This documentary tells of her special relationship with the United States Marines and of her signature uniform that included a special pair of pearl earrings.
For more information call (414) 297-8003.

Allow four to six weeks for shipping.
---
More from this collection