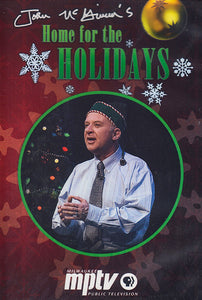 Shop Milwaukee PBS
Home for the Holidays - John McGivern DVD - PRICE INCLUDES SHIPPING
Regular price
$28.45
$0.00
John McGivern serves up a steady stream of stories from his Milwaukee childhood, that sounds and feel familiar to all. 

They recall an age of innocence bounded by handcrafted Christmas toys, trees purchased at the Odd-Lot-Tree-Lot, the Milwaukee Journal Calendar Gift, and life in the McGivern Household around the holidays.
Filmed at the Schauer Center in Hartford, WI this stage show recounts holidays past and present, and is guaranteed to generate loads of laughs and a warm holiday glow.

On this DVD, you'll find the hour-long TV version, exclusive to Milwaukee PBS. And the rest of the stories from the evenings' performance are included as extras. Enjoy!
For more information call (414) 297-8003.
Allow four to six weeks for shipping.

---
More from this collection