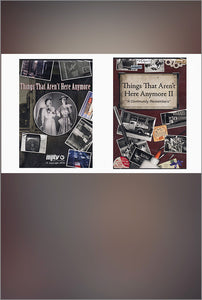 Shop Milwaukee PBS
Things That Aren't Here Anymore 1 & 2 DVD - PRICE INCLUDES SHIPPING
Regular price
$56.90
$0.00
Get both both "Things That Aren't Here Anymore DVDs 1 & 2
at a very SPECIAL PRICE

Things That Aren't Here Anymore
Step back in time as we reminisce about some of Milwaukee's past treasures. Through old photographs, footage and memories of actual patrons, we recall places that aren't here anymore. Do you remember going downtown to shop for that perfect dress? Can you still smell the aroma of your favorite restaurant, even though it's been gone for decades? Some memories never fade. Join us as we recall memories of shopping, favorite restaurants, kid stuff and drive in movie theaters

Things That Aren't Here Anymore II
Experience the shared memories of Milwaukee natives who fondly recall the years following World War II and test your trivia knowledge of the city's colorful past. "Things That Aren't Here Anymore II, A Community Remembers" is the second program in a series where the past comes alive through old photographs, archival footage, and personal stories.

Hear from local folks who recall some of their favorite childhood memories. Treat yourself to a special appearance by Milwaukee native and stand up comedian Dobie Maxwell who performs from his hilarious act "Schliz Happened! An Old Milwaukee Blatz from the Pabst." And step back in time for a nostalgic look at some "things that aren't here anymore."
For more information call (414) 297-8003.

Allow four to six weeks for shipping.

---
More from this collection